Sydney Smith tests skills with Melanie Shah in a strawweight bout at BKFC 48 on August 11th.
The fistic fireworks take place at Tingley Coliseum in Albuquerque, New Mexico. The broadcast transpires on Fite TV as well as the Bare Knuckle TV app.
Smith spoke to Dylan Bowker of Bare Knuckle News before the bout. Excerpts from the chat are below.
Sydney Smith
You had a post on social media intimating that this fight would be a strawweight title elimination. Is this something the promotion has expressly communicated to you?
"(laughs) Let me see how I answer this. I think it's just kind of news now because I just did an interview like thirty minutes ago with The Sports Grid and they knew about it. So I don't know who has officially or unofficially announced it but the consensus is this is a number one contender fight. So you know that's what I'm taking it as is that I'm fighting for my shot at the belt next. Definitely taking this very seriously, let me put it to you that way. Is that a good way to answer? (laughs)"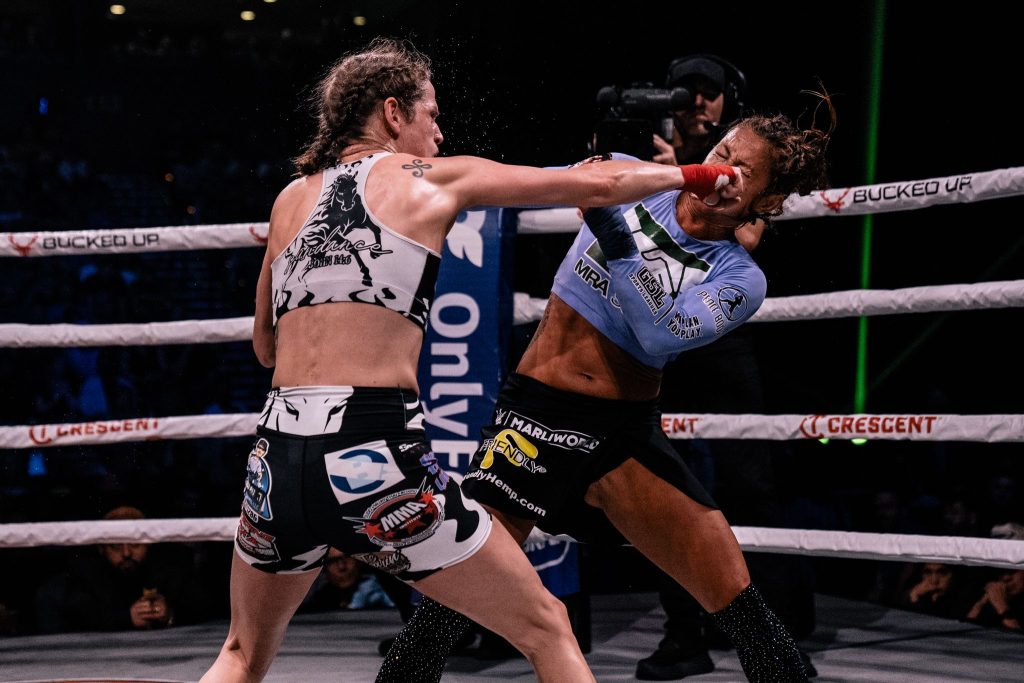 BKFC
I imagine you were happy to emerge victorious in your BKFC debut but it seemed like you wanted to show off more. In talking about this fight, I've heard you mention that Melanie Shah's approach will lend itself to a more action-heavy fight. What is it about this fight that you think lends itself to showing a more comprehensive rundown of your skills as a bare-knuckle fighter?
"You know she just strikes me as a woman who just wants to fight. She just continues to just walk forward and throw right hands throughout the whole fight. I feel like she's really going to engage with me and that brings out the best in me as a fighter. I really, really love when it's a war because it's a war. It changes something in me and I just really like that. I need that, it's kind of like a therapy for me. So like I didn't really feel like I got everything out of the last fight that I needed to or got enough out during that fight."
Bare Knuckle Fighting Championship
"So I kind of needed another quick turnaround because I just needed more therapy. It wasn't enough, I needed another session. That's why I always kind of hope for a banger because I leave feeling satisfied. Like I'm a perfectionist. I want to leave going wow, like I did the best I could and I laid everything out there and it was a hell of a show. Just grit from start to finish. That's what I'm known for around here, the fights that I've been in, and that's just the style I like."
"I feel like she's gonna give it to me, she's gonna give me that fight. So I'm here for it, man. I saw an interview, I think it was an older interview or whatever I will probably buy her a drink afterward or a chimichanga or a cheeseburger or something. Piece of pizza, whatever she wants. We'll just sit there, chill, watch some fights, and be cool. That's the kind of opponent I like is the chill fighters. I don't do drama (laughs)."
BKFC 48
Some of the operative wording you've used about this BKFC journey involves calling it a dream. This gratitude you have seems to translate to a composure that creates a useful fluidity when fighting in bare-knuckle. Is that the case?
"Oh a hundred percent. I mean so many things happened in the last fight but I knew that this is my calling in life. I feel like fighting is kind of my mission field, right. So it was like every time something tried to go wrong, two more things would go right. Like God was always right there at every turn. So everybody's like are you nervous? Are you mad about what happened? I was like I don't really feel anything but just happy to be here and excited to fight. I'm just carrying that energy into this next fight."
"That's just kind of how I'm living now is just that I'm excited for life and to see what God's going to do next. He kind of just orchestrated this whole number one contender fight and everything. Like I said, that was what I was praying for. So the mindset is definitely just; this is what God has called me to do. I believe that what he's called you to do is going to happen. As long as you're like doing what you need to do because we do play a part in it. But I'm definitely working hard and treating my body like a temple."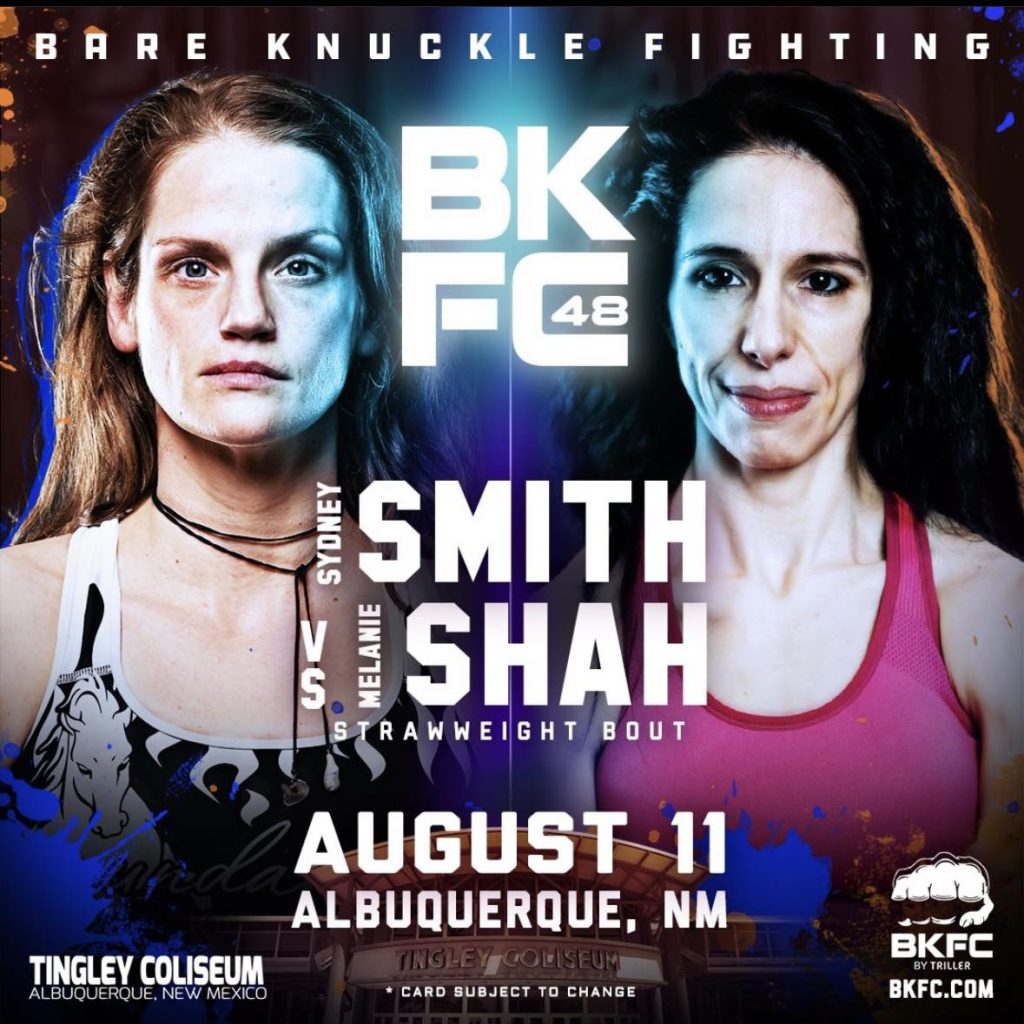 Sydney Smith vs Melanie Shah
Do you have any parting thoughts as we're wrapping up here?
"I just want to thank all of my teammates, my sponsors, friends, family. Anybody who donates, prays for me, says an encouraging word. All of the love I've been getting from BKFC and the media. It's insane but like it's a good insane. I just want to say like I'm just super happy and grateful to be here and just be able to perform for everybody's entertainment."
Sydney Smith continued, "But we work really hard for this and just respect every athlete who's going to get out there in a couple weeks and put it all on the line for you guys. We work really hard for this. I hope you guys enjoy the show, man. I know I'm going to enjoy myself so I hope you guys do."