Wil Santiago clashes with Jeremie Holloway at BKFC 48 on August 11th.
The fistic fireworks take place at Tingley Coliseum in Albuquerque, New Mexico. The broadcast transpires on Fite TV as well as the Bare Knuckle TV app.
Santiago spoke to Dylan Bowker of Bare Knuckle News before the bout. Excerpts from the chat are below.
Wil Santiago
Your opponent readies to make his bare-knuckle debut but has twenty-five mixed martial arts bouts previously. What are your thoughts on Holloway's resume and better stylistic attributes?
"Well, I know he moves well. He has some decent footwork and he has some decent combinations. Like I said, I feel like he puts it out there. Like the guy has a thousand fights. (laughs) If he hasn't been able to put it together by then, then it'd be a problem but the kid has. I've got to give him that respect, the kid has. So we have a great game plan, we've just got to be real cautious. But we also got to stay out there because he is the bigger guy and he has the bigger reach like we were talking about earlier."
"But we have a couple tricks up our sleeves that we plan on showing. We're just game for a good fight. I'm not sure (laughs) how comfortable or how he's going to be in there because it's a different experience. It's not going to be MMA, you know what I mean? It's a street fight, you know what I mean? So it's a little bit different and some people are able to make good adjustments, some people are not. We're going to find out if he's able to make those adjustments because I know am."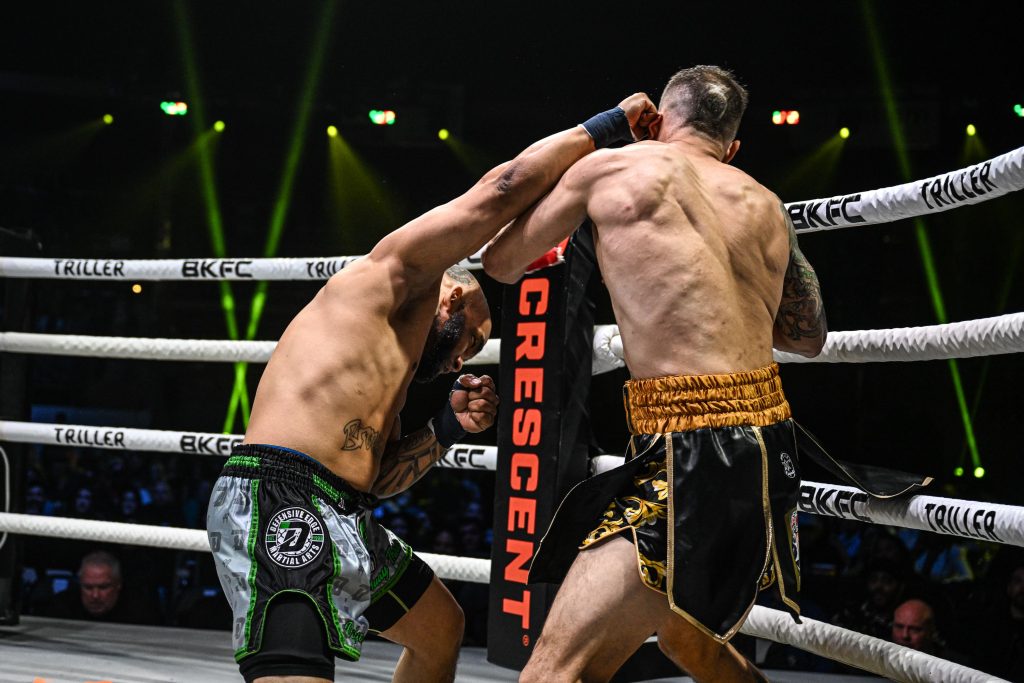 BKFC
You're 2-0 and surging as a bare-knuckle boxer while coming off of a big KnuckleMania 3 performance yet remain grounded as well as focused amid this success. Can you expound upon that confluence of forces a bit more?
"Yeah, it's been great, to be honest with you. I tell this all the time, I grew up through this. So I feel like I'm in my element and the more I do it, the more I get comfortable at it. So it's been fun though. I can't complain. Again, I feel like I'm in my element. I feel like this is something that I've been doing my whole life. My first two fights were just a while for me getting back to it. But now that I'm back to it, it's different and I'm getting more comfortable."
"Now I'm going to be able to do things in there that you're not gonna really see many people doing other than myself… I'm not saying that I'm one of those guys but I come from an area where if there was an issue, we'll go knuckle up. Then after that, we'll go shake hands. One go that way and vice versa and that's where it stayed at. So that's the era that I come from and it's always been that way growing up. It's just apparently with us it was jsut a lot of it because we had a rough start growing up.
BKFC 48
While you've been working on your boxing, Holloway ultimately has the longer reach. You're also both experienced with active clinch fighting from MMA and Muay Thai past experiences. Can you get into the machinations of this matchup versus Jeremie Holloway?
"I feel like my coaches have done a great job in terms of studying him. Us putting a gameplan together, the guy's good. It might be his first bare-knuckle fight but we feel as we study him, that it's gonna be an interesting fight. But if we stayed focused and stick to our gameplan which we will, I don't think he's going to know what to do. It's not talking **** because like I said, BKFC's a different animal. You know what I'm saying? BKFC is a different animal."
Wil Santiago continued, "We're just gonna be ready. We're just gonna be ready. I'm excited for this fight. This is a fight that's been pushing me extra and I'm excited. I'm excited for it. I'm sure he's excited as well making his BKFC debut. We're aware of his attributes, we're aware of his strengths, but what we plan on doing is just using those against him.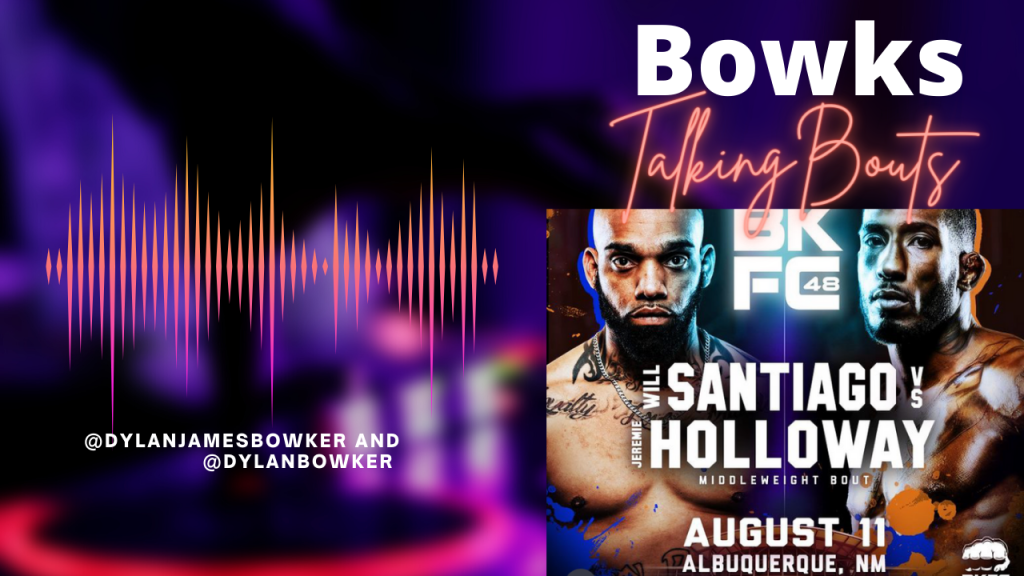 Wil Santiago vs Jeremie Holloway
You train out of Jackson Wink MMA and main eventer/ training compatriot John Dodson voiced to you how he was ready to party with you amid the partisan Albuquerque, New Mexico crowd post-event. It seems like with other area names, like Eric Dodson for example, this is a big night for the Albuquerque fight collective on this card. Can you speak to that dynamic?
"Exactly. Yeah, that's another thing too. Talking about that, John (Dodson) is one of our legends of New Mexico. So just the fact that he's fighting for a title and that everybody's gonna be out. We're gonna be out there and be on the same card as him, it's a blessing. It's an honor. You don't think we're all gonna wanna go to put up win, lose, or draw? Everybody's gonna go out there and fight their ******* ***** off, period. Just out of respect and out of honor for John Dodson."