Photo credit to Phil Lambert/ BKFC
Jomi Escoboza and Esteban Rodriguez test skills against one another at BKFC 49 on August 25th.
The fistic fireworks emanate from Miami-Dade Fairgrounds in Miami, Florida. The pugilistic proceedings are broadcast on Fite TV as well as the Bare Knuckle TV app.
Escoboza spoke to Dylan Bowker of Bare Knuckle News prior to the fight. Excerpts from the chat are below.
Jomi Escoboza
You normally fight at 185 pounds but are moving up to cruiserweight for this one. Do you see yourself fighting across multiple weight divisions or will you ultimately prioritize one weight category predominantly?
"I became the first 185-pound bare-knuckle boxing champion in the United States (for BYB Extreme) since it became legal six years ago. So I have that in the history books stamped out. So yeah, this fight, it was kind of like they couldn't find me an opponent. I said give me whatever. Just, I don't care. Just dig your name in the hat and whatever comes out, I'm ready. I've been training. I've been literally in fight camp for a year. So I've been waiting. I was supposed to fight last year (in) November then December 3rd."
"Then it kept going on month after month, event after event I was supposed to fight. So I've just been in training camp this whole time. So this name came up, it was at 205. I said well, you know, perfect. I don't need to cut weight and I can bulk up and fight – just become stronger – have more power in my punches."
"I'm going to be the faster fighter, for sure. So yeah, coming up in weight for one fight doesn't hurt. As long as I can get somebody to sign that contract to fight, because I needed a fight. It's too long. It's been way too long. So I was just like, get me whatever. They gave me this guy, 205. I'm like bet."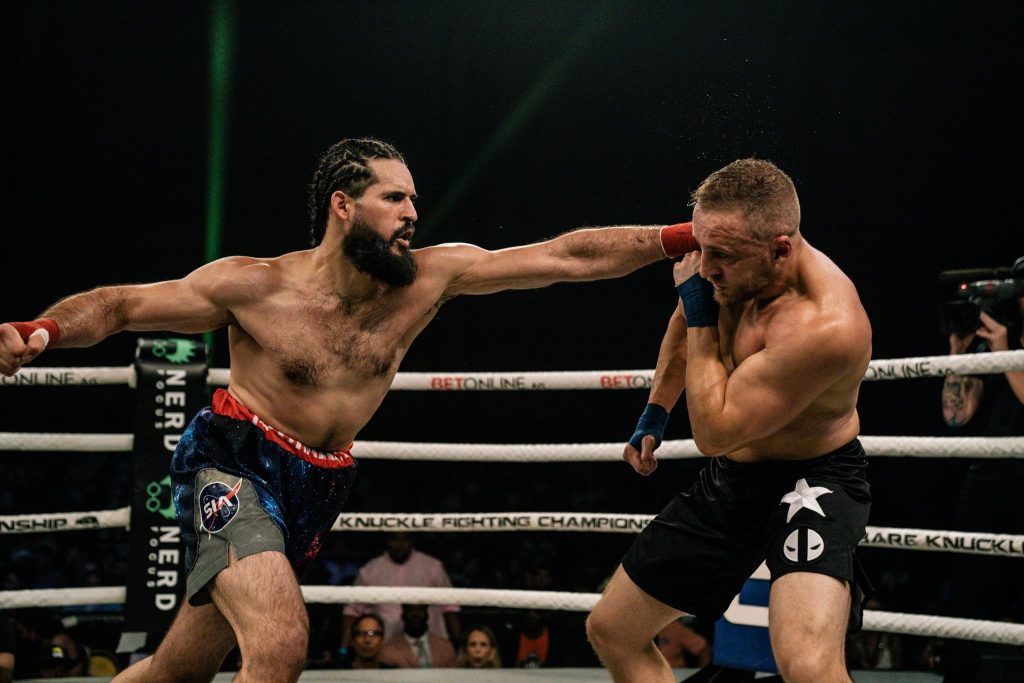 BKFC
You felt your last fight versus Jared Warren was competitive, albeit it being a loss for you, and Warren is just coming off of that interim light heavyweight title bid. It would seem like you're not super far off from the light heavyweight title picture in BKFC. What are your thoughts on that?
"Yeah, for sure, man. I believe I'm at the top of the 185-pound division. I'm trying to rack up as many wins to take that belt, keep racking up as many 185 belts in bare-knuckle and be known as the unified, lineal champ – taking all the belts from all the promotions at 185 pounds – be like the first lineal champ to take over the 185 pounds of the whole entire bare-knuckle boxing."
"So that was the original plan, when I was in BYB [was to become 185-pound champ]. I was just presented an opportunity to come into BKFC. So I just came in to try to win a belt."
BKFC 49
What are your thoughts on the 2-0 resume in BKFC, with a pair of early finishes, and on the stylistic attributes of Esteban Rodriguez as you head into this fight against him?
"I mean he's a tough fighter. He comes forward, very aggressive. The way I see it is in bare-knuckle boxing everybody has knockout power. Doesn't matter if you're a bum or anything. All it takes is six pounds of pressure to knock somebody out on the chin. So yeah, I think he's known for being aggressive, he comes forward. He puts pressure a lot and he's a 205er. So at 205 anybody has power. So yeah, he's just a tough fighter. Tough fighter all around. Comes forward and aggressive from what I've seen, you know."
Jomi Escoboza vs Esteban Rodriguez
You lamented your last fight being very movement-minded and jab-centric, but perhaps that strategy would behoove you in this fight here against a larger opponent (someone who debuted in BKFC as a heavyweight). Is there almost a sense of wanting to utilize that strategy from the Warren fight or do you have another methodology in mind without giving away too much of your gameplan?
"Ever since that last fight, I've been cranking up a lot of the pressure – just coming forward and output. So the output is going to be even more than what you've seen in the past, which has been a lot. I've always thrown more punches and out-pressure my opponents. So you're going to see that times a hundred. You're going to see a lot more of an aggressive Jomi. Just, the size really doesn't matter, to be honest. At '185, 205, that's basically my weight. So I spar with a lot of guys at that weight as well."
Bare Knuckle Fighting Championship
"Yeah, it's funny, because even before accepting this fight, I was sparring with one of my friends who had just won his debut in Boxing – a high-level Cuban boxer. He's a 205er too. So like, I've been getting a lot of work in with him getting ready for his fight. It just so happens he ended up being a perfect person to help me get ready for this fight. [He] was the one that came up to the table. So like size, it doesn't matter. All it is is just using his style and his form of fighting against him, and making him add more power to my punches."
Jomi Escoboza continued, "So it's going to be a lot of coming forward and angles as well. But that's going to be for every fight, not just for this fight. Just every fight going forward you're just going to see more coming forward, more angles, and just establishing control a lot. It's just – I can't fight like that last fight again. That's just like the one fight that I look back and I'm just like, you idiot. You could have easily won that fight."