Photo credit to Phil Lambert/ BKFC
Esteban Rodriguez and Jomi Escoboza throw down at BKFC 49 on August 25th.
The fistic fireworks emanate from Miami-Dade Fairgrounds in Miami, Florida. The pugilistic proceedings are broadcast on Fite TV as well as the Bare Knuckle TV app.
Rodriguez spoke to Dylan Bowker of Bare Knuckle News prior to the fight. Excerpts from the chat are below.
Esteban Rodriguez
You debuted in BKFC as a heavyweight but are now plying your trade in the company as a cruiserweight. What does the future hold for you in terms of weight category?
"I feel now like – before I was a heavyweight, I was dominating the heavyweights. Just for the fact that those heavyweight guys, man, they're real slow. I had that same power. So I was like, people kept talking me into, "You gotta drop weight. You gotta drop weight." This and this and that. You've got to drop to 185, 205. I'm like, listen guy, I love eating donuts too much, dog. I am a fat kid at heart, like I love to eat, bro. Like I'll smash on a whole three or four-pound burger all within one hour. I love to eat, man."
"It's just like the training camps, the weight cuts. I feel like dieting and being able to have to sacrifice my eating and all that stuff is what really just kind of solidifies their coffin. I love my food, man. Love my food and I've been eating like tuna fish, chicken, all this clean stuff. It's been brutal, man (laughs)… Once I go through this 205 division, man, I'm going to come back up to the heavyweights to show them what a real monster looks like."
Esteban Rodriguez continued, "If I'm able to make it happen, because weight cut's been going really, really good lately, so, I mean, who knows? I might even drop down to the 185 class just to test to see if I could even get down there first of all though. But as far as it goes at 205, there's no doubt about it, this is my division."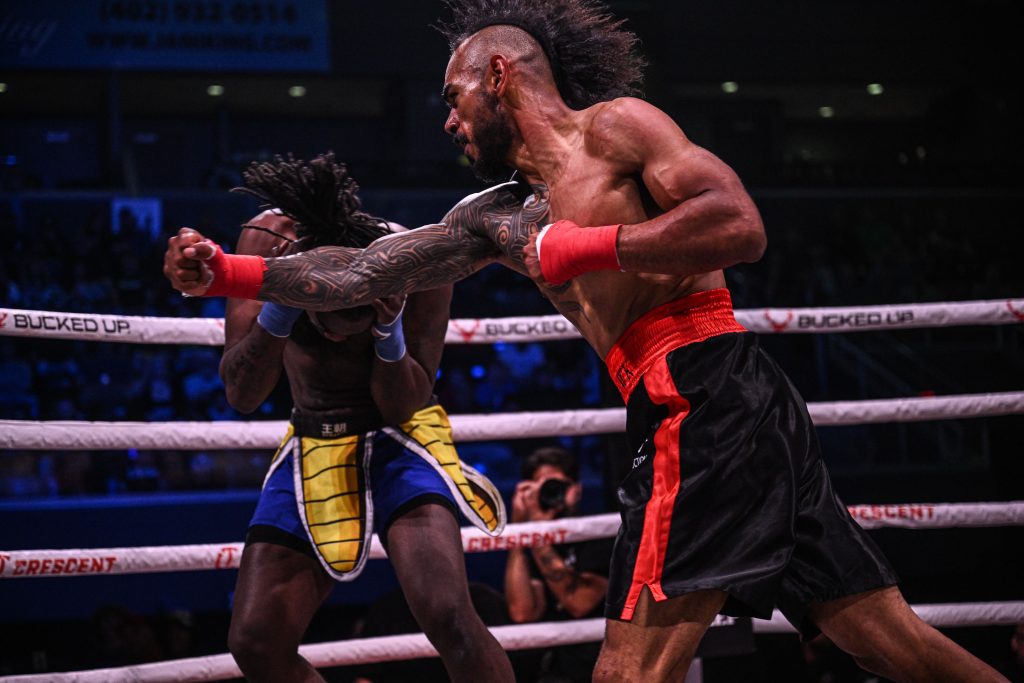 BKFC
I love how when you describe your pursuits and passions. You talk about wanting to do it for the people. How does it feel to uplift and inspire other people as you pursue your individual goals?
"A lot of these guys out here, man, I feel like they're like boats in the water. They don't know what they want to do. That's why I wanted to dedicate myself to BKFC, because it's true. It's said perfectly right there – lions not sheep. Lions not sheep, man. You can't continue to follow the other crowd or be like these other people. You've got to follow your own dreams. You've got to make a dream. Come up with a purpose and then chase it with a burning desire. Chase it like it's your last breath, man, and just go after it."
Esteban Rodriguez continued, "Just work for it, just take one step. Just one step is all it takes. I came from adversity where it was like I was in a dark place. I was in a dark, dark place. Like I had the barrel in my mouth and everything, man. I started thinking to myself like what the hell am I doing? There's so much potential in this world. My son started peeking into my mind – like everything just started just unfolding to me. I put my hands and my knees down and just started praying."
BKFC 49
"Like man I ain't no religious person, but imma start praying to God. I don't know what's going on here and things started happening, man. I started getting into faith and prayer and I built my own relationship. My history, everybody frowns upon it, weapon charges and stuff like that, you know what I mean? Delivering and manufacturing marijuana, like I was kind of (around) the wrong people right way. I looked to God, tried to do things the right way. I stood up and I feel like I had to pick up the pieces."
"Thought people were gonna be like, oh yeah, you can do this! Like no, this world is cruel, man. You have to really buckle down and really get to what you really, really want in life. Figure out what you want instead of what everybody else wants, and then just pursue it, man. Just drive. And now I get to be that living example. It doesn't matter where you come from, what background you have, if you just put the work in and take that one step, you will always make it happen and this dream will come true."
Esteban Rodriguez vs Jomi Escoboza
Your opponent, Escoboza, is a former BYB Extreme cruiserweight champion, and is around that double digit fight mark in bare knuckle as he presumably hungers to return to the win column here. Does this strike you as a great person to be able to showcase your newly accrued skills against?
"Yes, sir. I've been looking forward to somebody like this for a very long time. Usually, I just punch somebody and they just crumble. I'm like, alright finally somebody who's gonna fight back. Finally, someone who's gonna finally put pressure back. When pressure and pressure meet, woo-oo, that's when you get those explosive fights right there. So there's no ifs, ands, or buts about it, we're gonna put on the fight of the night. Yes, sir."
Bare Knuckle Fighting Championship
"Well, he's got a good jab. He's got a good counter. He fights off the back, man. He's a backward fighter, man. So he's not going to be able to handle the pressure I'm bringing. I mean honestly, I feel like now that I'm able to really read those kind of things. Before I never could really understand that. It was just like go, go, go, go, go, go, go. Now I know what I have to do. I know how to do it with precision, and now I'm doing it with accuracy. So now this fight. You're not just going to see a brawler going out there."
"I'm not just gonna go out there and just start brawling and just smothering these guys. No, I'm hitting angles now. I see this man. He doesn't necessarily hit angles. He just kind of runs away a little bit and he just waits for that counter. He's a patient fighter and he's never met a different fighter like me before. So if he don't like to fight, we're gonna be fighting. If he likes it or not, we're gonna be fighting. I don't care what he's got. I don't care anything about that championship. He ain't fight no people like me."