Dakota Highpine clashes with Bryan Duran at BKFC 49 on August 25th.
The fistic fireworks emanate from Miami-Dade Fairgrounds in Miami, Florida. The pugilistic proceedings are broadcast on Fite TV as well as the Bare Knuckle TV app.
Highpine spoke with Dylan Bowker of Bare Knuckle News before this bout. Excerpts from the chat are below.
Dakota Highpine
It seems like you're acutely aware of your opponent's skills. It also seems like this is a fight you guys have discussed having with each other for a bit now. How long have the discussions with Duran taken place about you two having a fight per your recollections?
"From my recollection, I think after my first BKFC fight. He said he needed an opponent and I (had) seen it on Instagram. I just put on like I'd fight you if we got the chance. Like I'll be your opponent. He was like that's what's up. We could do that and came into the future."
"When I got the contract and I signed it and I sent it back, he was like you got your dream, it came true. I was like it's not every day you fight your favorite fighter. So it's definitely a big thing. Coming from Great Falls (Montana) being such a small town and not a lot of people here to going and fighting in front of half the town maybe, like this is big."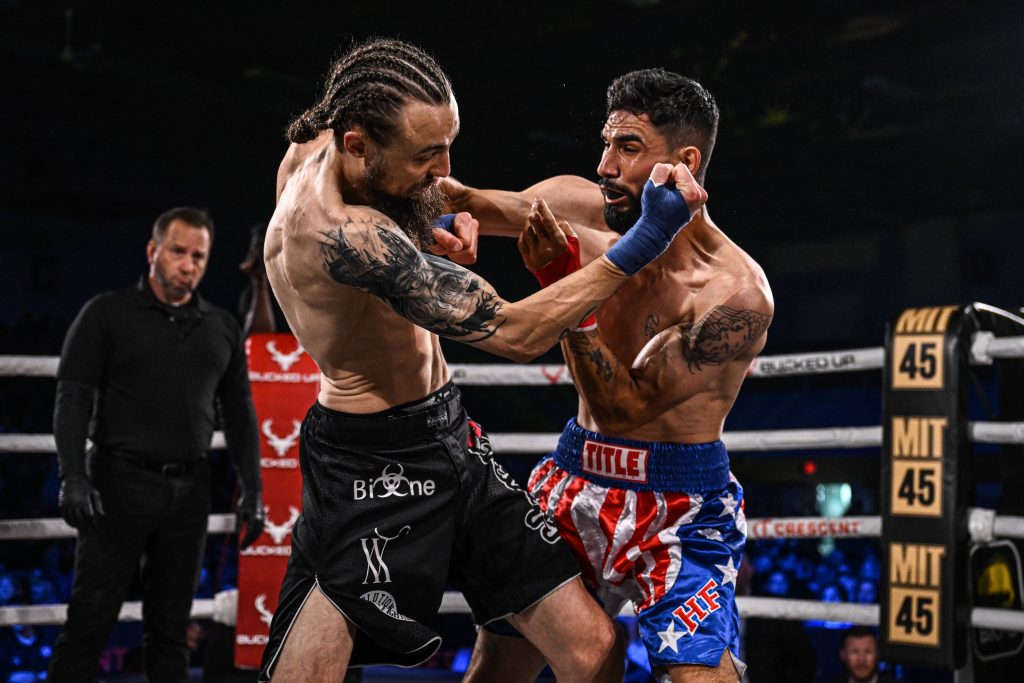 BKFC
That's a big statement to describe Duran as your favorite fighter. Can you expound upon why you feel that way about the 4-0 BKFC combatant?
"Well, he's one of my favorite fighters. I would say since the beginning first time I ever seen him like his persona when he hops in the ring, he's jacked up, he's ready. The best people can hop in there with you and like be a gladiator just as well. So I give him all respect and nothing but… I just like his fighting style. That's one of the things that caught me on first and I just knew. He's a fighter, he's a scrapper. I'm a fighter, I'm a scrapper, and everybody in Great Falls like, they know who I am. They know the name."
BKFC 49
Duran debuted in BKFC at 145 pounds, journeyed north of that since (160-pound catchweight or lightweight). and returns to featherweight here. What are your thoughts on him cutting back down to this weight category in the context of how it could inform Duran's performance here?
"When he went down to 145, I was like oh man that's; because the last one I seen him fight, he was 160-165 or something like that. So it's a pretty big drop in weight but I'm excited to see where it puts us."
Bare Knuckle Fighting Championship
You have a background in amateur boxing and amateur MMA. Localized to the standup portions of these games, how does bare knuckle differ in terms of training and performance within the body of the fight itself?
"Yeah, so one of my friends Leo Bercier he got me to go up and talk to Joe Riggs. He was throwing on like a little Boxing match place and I was like yeah like I'll come up and I want to fight. I was at 155 at the time and from there Joe was like you would be a good addition to MMA. Started training a little bit with them, doing a little bit of jiu-jitsu. I liked it but I'm a stand-up guy. I've boxed for plenty, plenty of years and that's just where my heart is."
"My grandpa when I was growing up, he'd watch the ESPN Classic. I told him I'm gonna be there one day. He passed away when I was 19. Now to be on the big stage, I wish he was here with me. It'd be a big thing for him because he always wanted to be a professional but he never got the chance. So I'm making both of our dreams come true at once."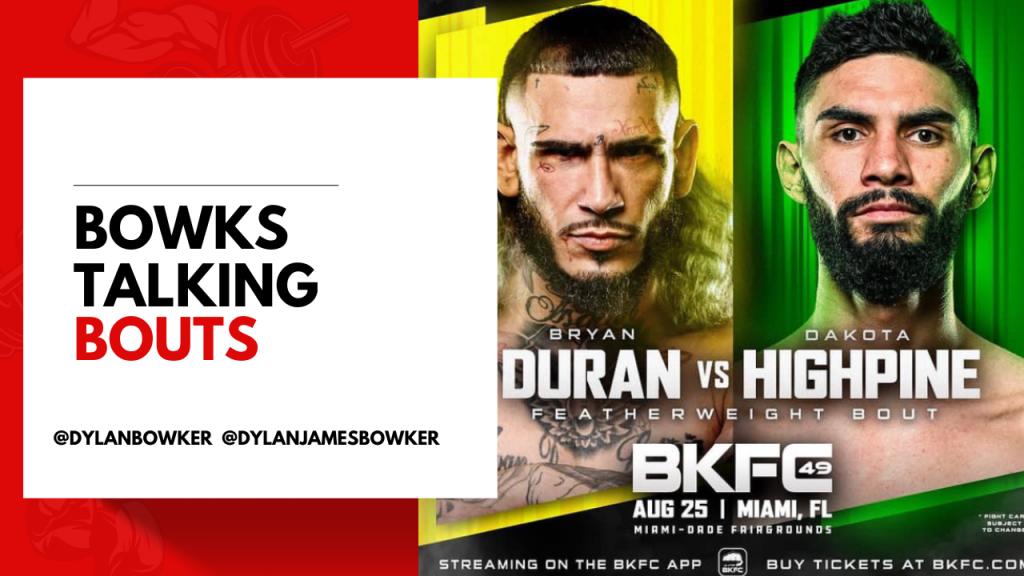 Dakota Highpine vs Bryan Duran
In discussing how much you admire Duran, there's another fighter on this card you admire a lot who's actually retiring here. Can you get into the specifics on that?
"I've watched Bryan (Duran) from the beginning. I've watched Tom Shoaff from the beginning. Those are two of my favorite fighters… Well, I'd seen that too (Shoaff's retirement news) and I don't know. Just to be on a card with him with him being my favorite fighter, I don't know how to approach it or just to say hi. Because he knows I'm a BKFC fighter, I told him like I'm a big fan, and hopefully one day we get on a card together. This is it, big thing. I've never felt like more excited. This is a big, big feeling for me."