The History of Bare Knuckle Fighting in New Orleans
The event this Friday, Feb. 24, 2023, at the Pontchartrain Center on Williams Boulevard, is BKFC's New Orleans' debut, and it's happening 153 years after the very first (official) bare knuckle world championship bout was decided on the opposite end of the same road.
That historic 1870 prize fight took place in Kenner, Louisiana, just barely outside of New Orleans where bare knuckle fighting was prohibited at the time. The heavyweight fighters back then were American, Tom Allen, knuckling up against England's Jem Mace. After 44 minutes (!), Mace won and collected $2,500 in prize money.
Today, the site of their bout, Williams Boulevard and Highway 48, is home to a statue of the two 19th century fighters squaring off entitled, Mighty Mississippi Prize Fight.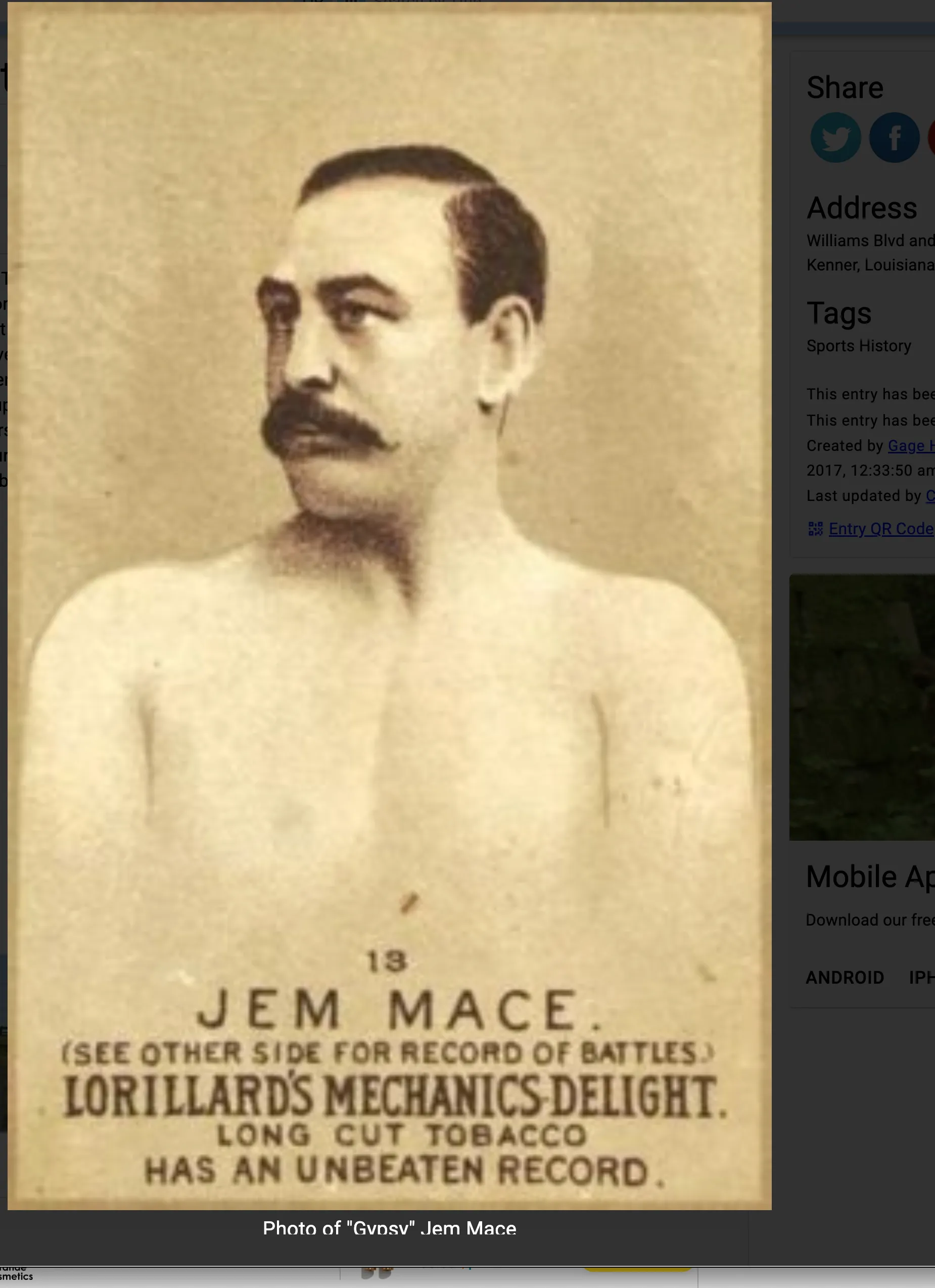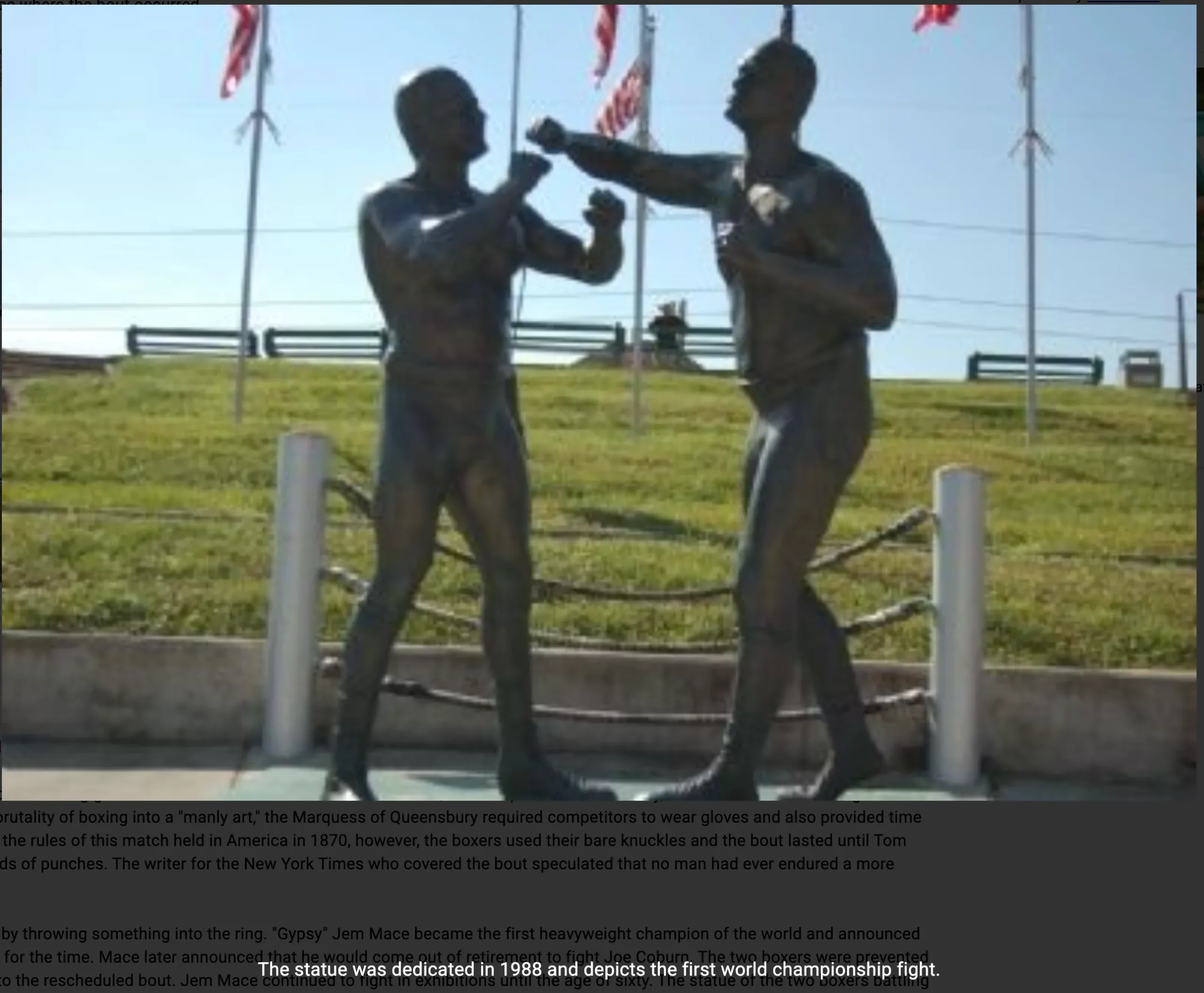 The BKFC 36 Bare Knuckle Fighters Card
Eleven fights are scheduled for the night, with prelims starting at 8 p.m. EST and the Main Event set to start broadcasting at 9 p.m.
Headlining and vying for the Heavyweight Championship at BKFC 36 New Orleans will be Arnold "Bomaye" Adams (7-1-0, 206 lbs) vs. Alan Belcher (3-0-0, 232 lbs). Adams currently holds the heavyweight title and is ranked No. 3 pound-for-pound in the BKFC; Belcher is the No. 1 heavyweight contender.
The lightweight co-headline event pits Bobby "ODB" Taylor (5-1-0) vs. England's James "Lights Out" Lilley (7-0-1).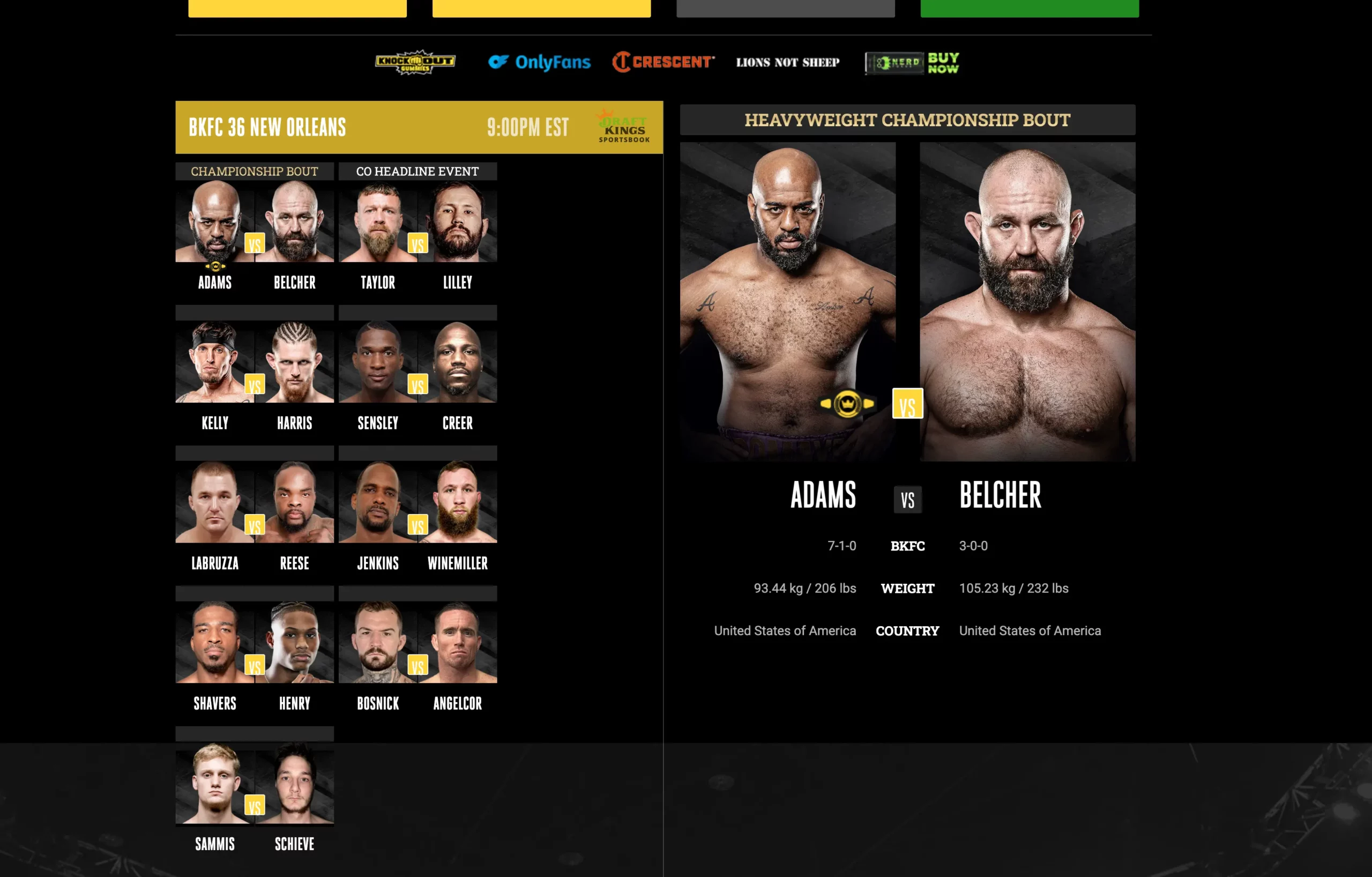 The fight card is subject to change as fighters may not make weight or may get injured.
BKFC 36 Main Event: How Adams vs. Belcher Stacks Up
Fans in New Orleans, and those watching at home, will get a treat with these two big boys. While the undefeated challenger Belcher usually carries 25 more pounds (232) into the Squared Circle than the champ Adams (206), Adams punches with a 3.5-inch reach advantage (77.5 vs. 74).
Still undefeated since he debuted in BKFC on Aug. 21, 2021, Belcher's size and power remain a threat every time he fights. However, his background as a well-rounded MMA fighter with a BJJ black belt is less intimidating in a sport like bare knuckle, which is all about the hands.
Adams, on the other hand, is a lifelong striker who debuted in BKFC with a win against DJ Linderman at BKFC 1 on June 2, 2018. In fact, Adams fought at the first three BKFC events, earning wins against Linderman, Joey Beltran, and Sam Shewmaker before taking his first and only loss against Chase Sherman at BKFC 7 Aug. 10, 2019—nearly four years ago.
This will be Adams' second defense of the belt, (he defeated Dillon Cleckler at BKFC 25 on May 6, 2022), and Belcher's first title fight.
BKFC 36 Co-Headliner
The co-headliner fight of the night pits lightweights Bobby "ODB" Taylor against England's James "Lights Out" Lilley. Taylor will likely earn a great deal of crowd support. The 44-year-old contender embodies workman-like bare-knuckle spirit, still holding a full-time job in the construction industry even as he trains at a gym an hour's drive from his home.
Despite having less experience in the Squared Circle, Lilley, 36, is ranked ahead of Taylor in the lightweight division. But, this fight marks the Englishman's second fight vs. a top-5 ranked opponent. This will also be both fighter's third fight in less than one year, with Lilley having made his BKFC debut in Fort Lauderdale last year on April 21.
Full Bare Knuckle News Access
To watch BKFC 36 New Orleans, and for exclusive access to other events and news, follow the Bare Knuckle News referral link here: https://referral.bareknuckle.tv/susan