February championships in the sports world have a sensational reputation to uphold. We just had Superbowl, and next week we have the Daytona 500, and Bare-Knuckle Boxing is no exception as BKFC gets ready for its own blockbuster event, Knucklemania, now in its 3rd year.
For bare-knuckle fans craving something super, BKFC's Knucklemania 3 promises to deliver this Friday, Feb. 17, 2023, in Albuquerque, NM. The sport's "super-night" of matchups features a fierce rivalry in the main event and an explosive undercard to match.
At the top of the card, seasoned American light heavyweights, Lorenzo "The Juggernaut" Hunt (9-1-0, 185 lbs) and Mike "The Marine" Richman (5-0-0, 175 lbs), knuckle up with a championship belt on the line—and emotions are running high.
The History Behind Hunt vs. Richman
Bad blood between Hunt and Richman has been simmering since well before the matchup was first officially announced Dec. 30. While Richman prides himself on his stoic workmanship and low-key personality outside of the ring, Hunt is known for his super-human training regimen his and his unwavering focus.
A series of online exchanges in 2022 culminated with the two fighters verbally sparring behind the scenes at weigh-ins for BKFC 26, on June 23, 2022.
Recently, Hunt and Richman exchanged words before briefly coming to blows onstage at the Jan. 19, 2023, pre-fight press conference for Knucklemania 3. BKFC representatives intervened in the brawl, which ended with the fighters and several others falling off the back of the stage and out of view of cameras.
Courtesy BKFC - The fight Starts at 19:28
The Knucklemania 3 Main Event: How Hunt vs. Richman Stacks Up
Inside the SQUARED CIRCLE, Richman is known for his aggressive style, while Hunt brings a balanced and impressive fighting skillset. The battle will ultimately come down to whether Hunt can avoid Richman's heavy hand and counter the Marine's relentless attack, and whether Richman can stay controlled in the face of Hunt's precision.
Whatever the outcome, fans can expect fireworks.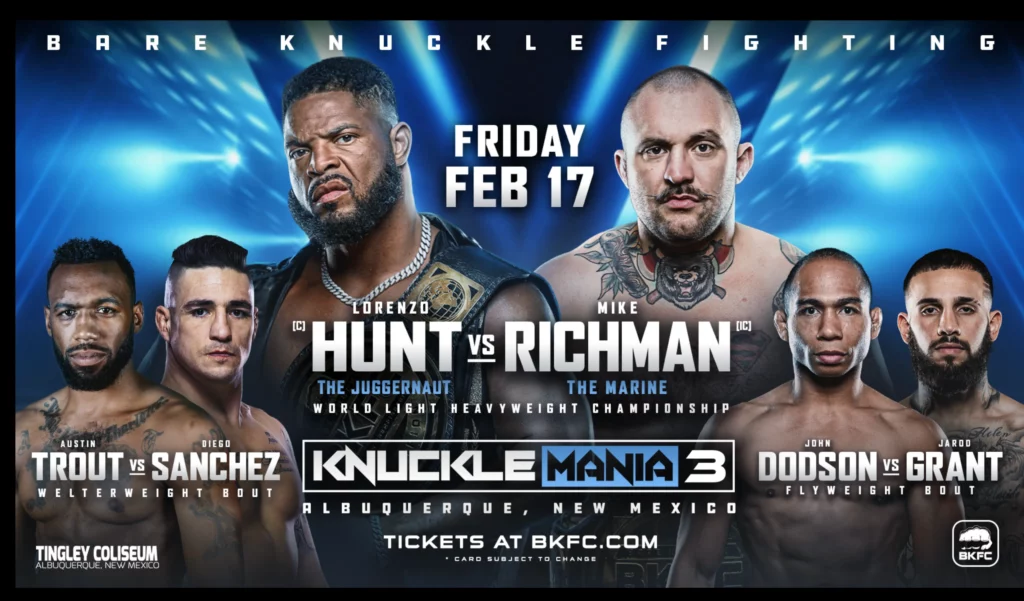 The Co-Headline Event: Trout vs. Sanchez
Knucklemania 3 also features a co-headline welterweight event with 165-pounders veteran boxer Austin "No Doubt" Trout squaring off against UFC legend Diego "The Nightmare" Sanchez.
Austin, a former WBA light middleweight champ (36-5-1 in that sport), says he's still entertaining ambitions of boxing titles at 37, even as he kicks off his official BKFC career against Sanchez.
But, Diego Sanchez has a lot of fighting experience. The 41-year-old former UFC star, who paired his wrestling expertise with fearless striking in his MMA battles leaving his UFC career at the elite level, says he is ready to do battle in the squared circle.
The Knucklemania 3 Undercard
Among rest of the evening's stellar lineup, the Albuquerque crowd will be vocal in supporting local fan favorite—and another former UFC star—John "The Magician" Dodson (1-0) as he battles Florida's Jarod "Kid Gatti".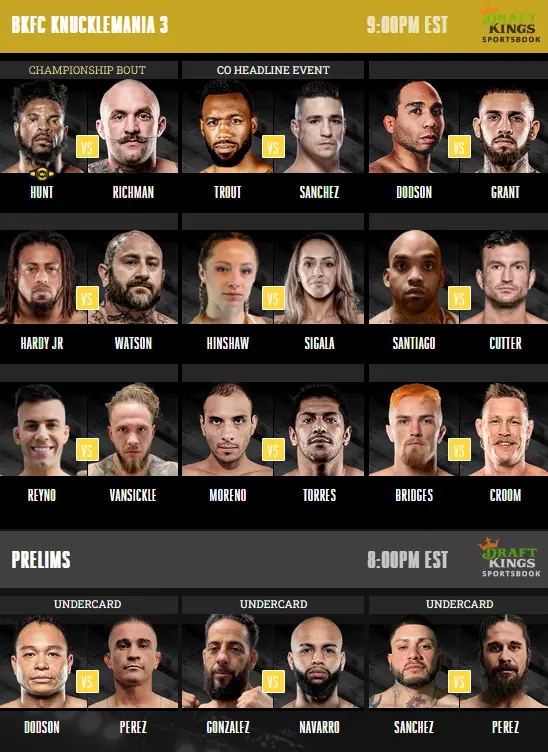 Full Bare Knuckle News Access
To watch BKFC's Knucklemania 3, and for exclusive access to other events and news, follow the Bare Knuckle News referral link here: https://referral.bareknuckle.tv/susan