Jamie Driver challenges for Jozette Cotton's BYB super welterweight and Police Gazette world diamond belts at BYB 17: Brawl at Rock Hill on May 13th. The dual-title throwdown emanates from Rock Hill Sports & Event Center in Rock Hill, South Carolina.
'The Red Queen' has stormed onto the scene en route to this bid for a pair of coveted bare-knuckle boxing championships.
The pugilistic proceedings broadcast on combatcast.tv/byb and the show will kick-off at 7 PM EST.
Driver spoke to Dylan Bowker of Bare Knuckle News before this title bid. Excerpts from the chat can be found below.
Jamie Driver
You made history in your last fight by being part of the first women's bare-knuckle boxing bout in the UK. Can you speak to the totality of that experience?
"So, you know, I don't mean to downplay that experience. I mean it's phenomenal looking back but at the moment, I was actually going through a really rough time. So I really didn't enjoy any of it. I didn't want to be there; with stuff I had going on. But after the fight, yes and looking back it was an amazing experience."
Jamie Driver continued, "Being dubbed one of the first females along with Sonya Dreiling to fight on a legal bare-knuckle boxing card in the UK and then I come out the victor, that's amazing. London was beautiful though. My coach and I, we explored London for like ten hours. I definitely would love to go back, that's for sure."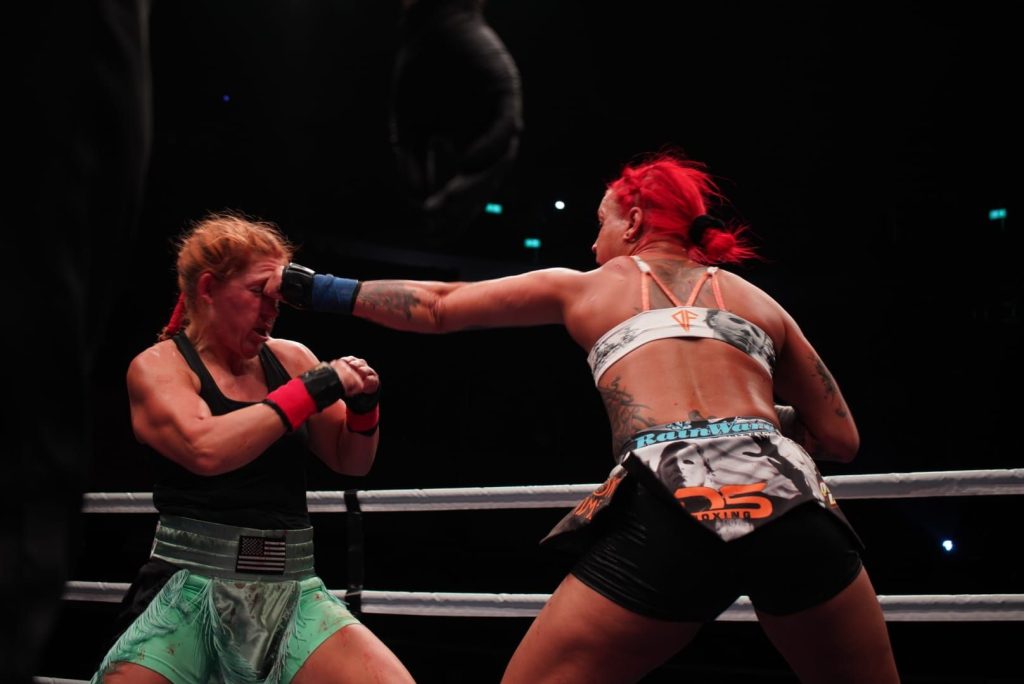 Jamie Driver vs Jozette Cotton
What are your thoughts on Jozette Cotton's resume and stylistic attributes?
"I know I'm working the hardest I possibly can. I'm not leaving any stones unturned. I don't want to say that in any fight camp that I ever did. But my last fight camp I can't lie, I barely trained (laughs). But this fight camp is very different, my mindset is very, very different. I'm very focused. She's tough, we're both 2-0. So we both technically are the top, the best female welterweight fighters in bare-knuckle in the world right now. I know she's tough and she comes to fight, she doesn't back down."
"So I'm making sure that every day whether I'm training physically or training mentally, I'm on point. But I'm taking her very serious. This fight is very, very important for me…. She's tough and she's also sneaky. She switches stances a lot. Keeps her hands down which a lot of fighters do not do. So her punches, they'll kind of come at you a little blind. She's caught every girl she's fought with sneaky blindsided punches. She's tough, I know she's clapped both women she's fought with some strong punches."
Jamie Driver continued, "Yeah, I know that I'm going to be prepared to go to war with her. Because I mean she's tough but I'm also tougher. But yeah we'll see what happens (laughs)."
BYB 17
The BYB Extreme title represents the present and as an extension the future of this sport. Also though, the Police Gazette title has that rich lineage underpinning it; having the deepest history of any hardware in combat sports. Is there a certain level of importance on either of these belts or are they commensurately important to you?
"I mean I can't lie, to be honest, I mean they both kind of mean the same to me. I hope that doesn't disrespect anybody (laughs). But you know I mean for me personally, it'll just be an amazing task and feat to accomplish and take both of those belts. So it means the world. So I'm excited."
Jamie Driver continued, "I mean regardless, I hope at least, if I can get my name in the history books as one of the most baddest female bare-knuckle boxers in the world at one time. To just; hopefully with my journey and my fight career can inspire and help other female fighters in the long run. That will make me the happiest than ever winning belts though, to be honest."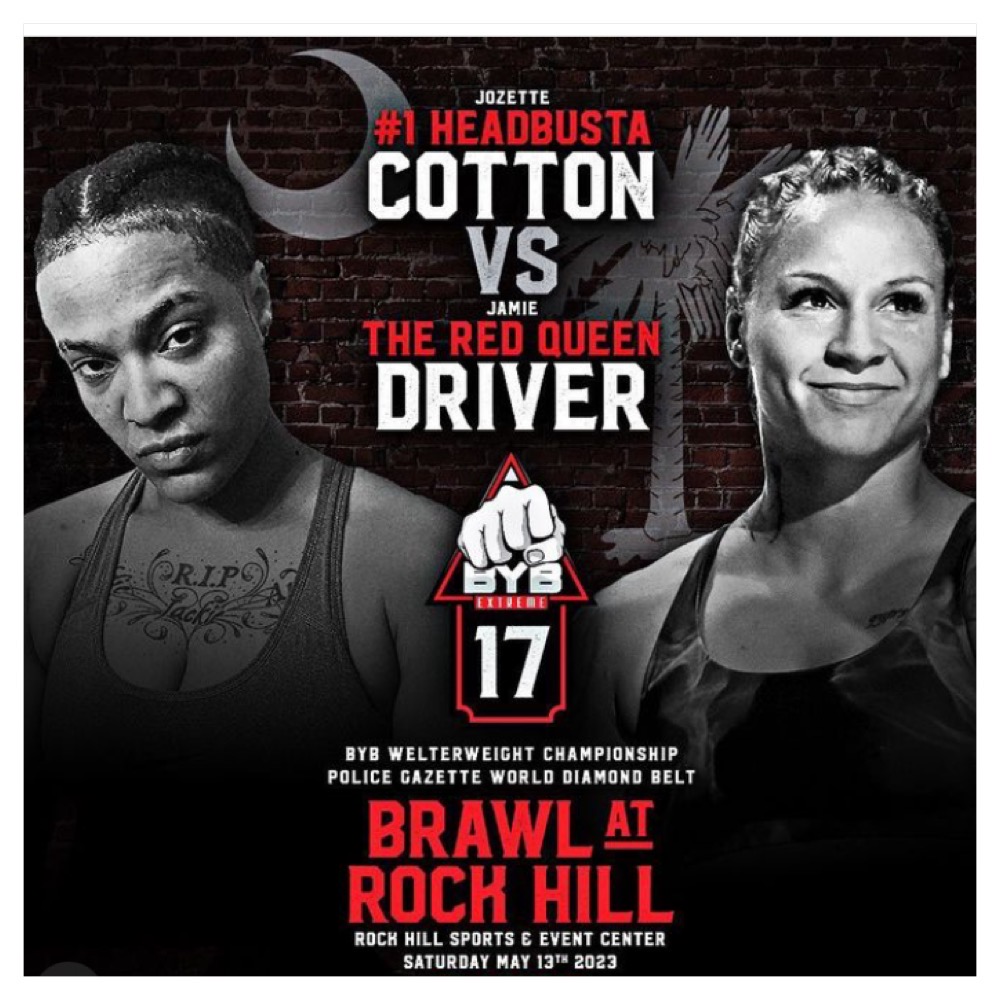 BYB 17: Brawl at Rock Hill
Parting thoughts for Jamie Driver
"Oh I appreciate that, thank you so much. You know, I just want to say thank you to my team at DS (Derik Santos) Boxing. My family, friends, all my supporters, and sponsors. Just thank you. Thank you for your continued support in this journey. Thank you for this lovely interview. I had a fun time, definitely looking forward to talking in the future. I just hope everybody tunes in May 13th and watches me win the belts."