BKFC HITS LAS VEGAS,
NEVADA THIS WEEKEND! OPEN TRYOUTS AND MUCH MORE AT THE MR. OLYMPIA EXPO!
Philadelphia, PA (December 14, 2022) Bare Knuckle Fighting Championship (BKFC), The World's Fastest Growing Combat Sports Promotion, hits Las Vegas, Nevada this Friday and Saturday, December 16 and 17 as part of The Mr. Olympia Expo at the Venetian Convention and Expo Center.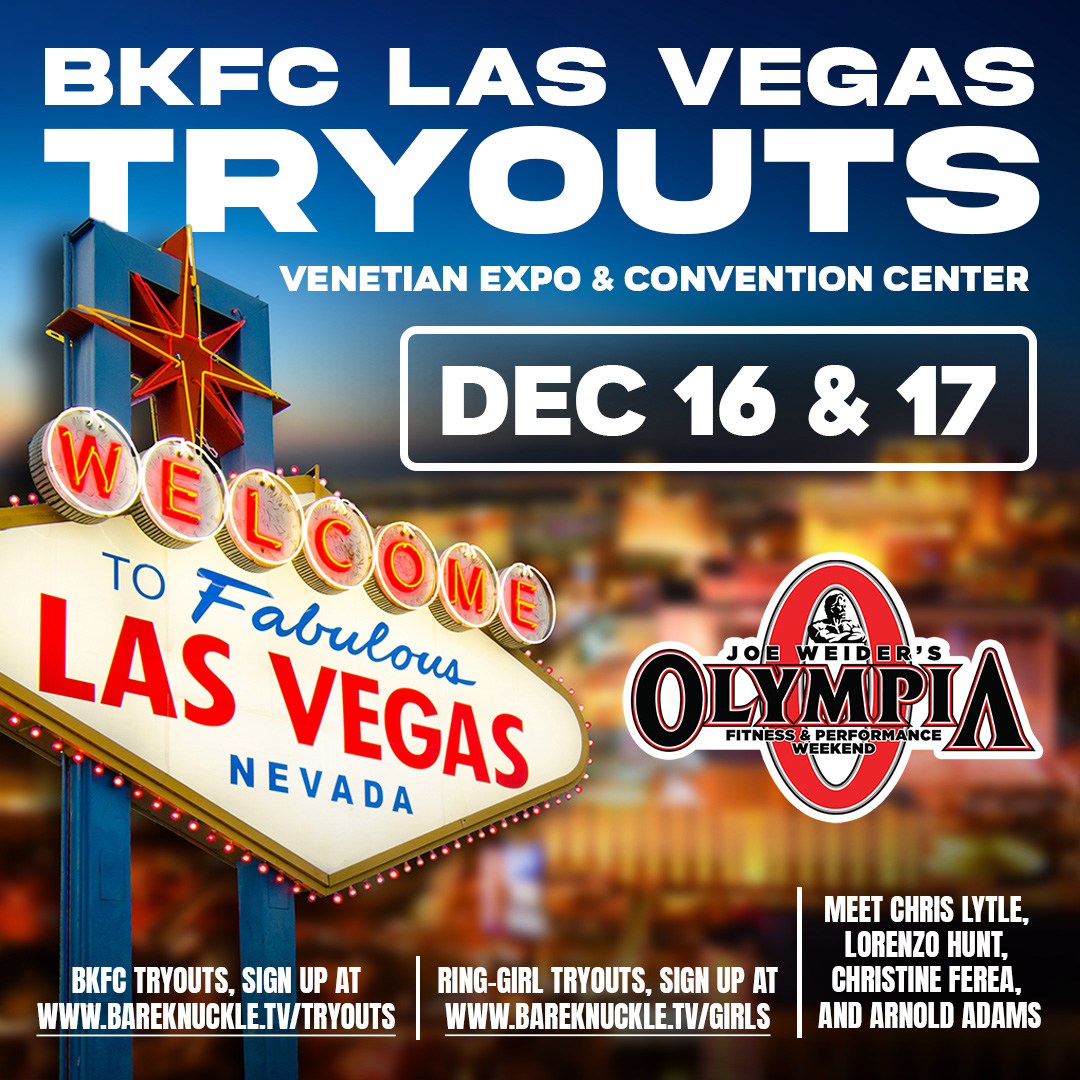 "On Friday we'll be holding 'meet and greets' along with 'Q & A's' with our world champions and on Saturday we'll have our famed squared circle up for our Open Tryouts which we invite fans to watch in person and on the New BKFC App." The New BKFC App is available at www.BareKnuckle.TV for $4.99 per month.
"This is our first trip to Las Vegas, the fighting capital of the world, and we're anxious to meet our West Coast fans in addition to hosting Open Tryouts," said David Feldman, President of BKFC.
"We've had a wealth of success across the country with these Open Tryouts and Las Vegas has a tremendous reputation for having some of the toughest men and women in the world training in their gyms. 2023 is going to be a massive year of growth for BKFC and we're laser focused on working with the best bare-knuckle fighters in the world."
On Friday, three of BKFC's World Champions; Heavyweight Arnold 'Bomaye' Adams, Double Champ Lorenzo 'The Juggernaut' Hunt and Women's Flyweight Christine 'Misfit' Ferea will meet combat sports fans attending The Mr. Olympia Expo in addition to hosting a 'Q & A' session. They will be joined by fighter legend and BKFC commentator Chris 'Lights Out' Lytle in addition to the BKFC Bombshells.
The Mr. Olympia Expo is open from 10:00 a.m. PT to 5:00 p.m. each day at the Venetian Expo and Convention Center, 201 Sands Ave, Las Vegas NV 89169. For more information please visit https://mrolympia.com/content/upgraded-olympia-expo-will-take-over-venetian-convention- center. Daily passes to the Mr. Olympia Expo start at $35 with weekend passes priced at $55.
As BKFC looks for their future superstars, men and women who wish to participate in the Open Tryouts can sign up in advance at https://www.bareknuckle.tv/tryouts.
In addition to Open Tryouts for fighters on Saturday, BKFC will also host a Round Card Girl Competition to find the next BKFC Bombshell. Women interested can sign up in advance at: https://www.bareknuckle.tv/girls/bombshell-tryouts
Media Contact/Credentials
Bernie Bahrmasel
Double B Sports
Phone: + 1 773 592-2986
Email:
[email protected]
Twitter: @BernieBahrmasel
About Bare Knuckle Fighting Championship (BKFC)
Championship (BKFC) Bare Knuckle Fighting Championship (BKFC) is the first promotion allowed to hold a legal, sanctioned, and regulated bare knuckle event in the United States since 1889. Based in Philadelphia, and headed by President and former professional boxer David Feldman, BKFC is dedicated to preserving the historical legacy of bare knuckle fighting, while utilizing a specifically created rule set that emphasizes fighter safety. BKFC holds all of its bouts in a revolutionary circular four-rope ring, designed to encourage fast-paced and exciting bouts. The patented BKFC "Squared Circle" contains scratch lines, based on the Broughton Rules which governed bare knuckle fighting in the 19th century, and which requires fighters to "Toe the Line": start every round face to face, and just inches apart.

In BKFC, only those fighters who are established professionals in boxing, MMA, kickboxing, or Muay Thai are allowed to compete. The referees and judges are required to have extensive professional combat sports experience. All fights are held under the auspices and control of an Athletic Commission. Unlike other fighting organizations and combat sports internationally which claim to be "bare knuckle", but require wraps, tape, and gauze; BKFC is true to its word as fighters are not allowed to wrap their hands to within one inch of the knuckle. This makes BKFC unquestionably the truest form of bare knuckle fighting. BKFC is dedicated to not just creating the safest, most exciting, and highest-level bare-knuckle fighting organization in the world, it's also leading the way for a new fully recognized professional combat sport. BKFC is truly the sport of the future, which fully respects its remarkable past.